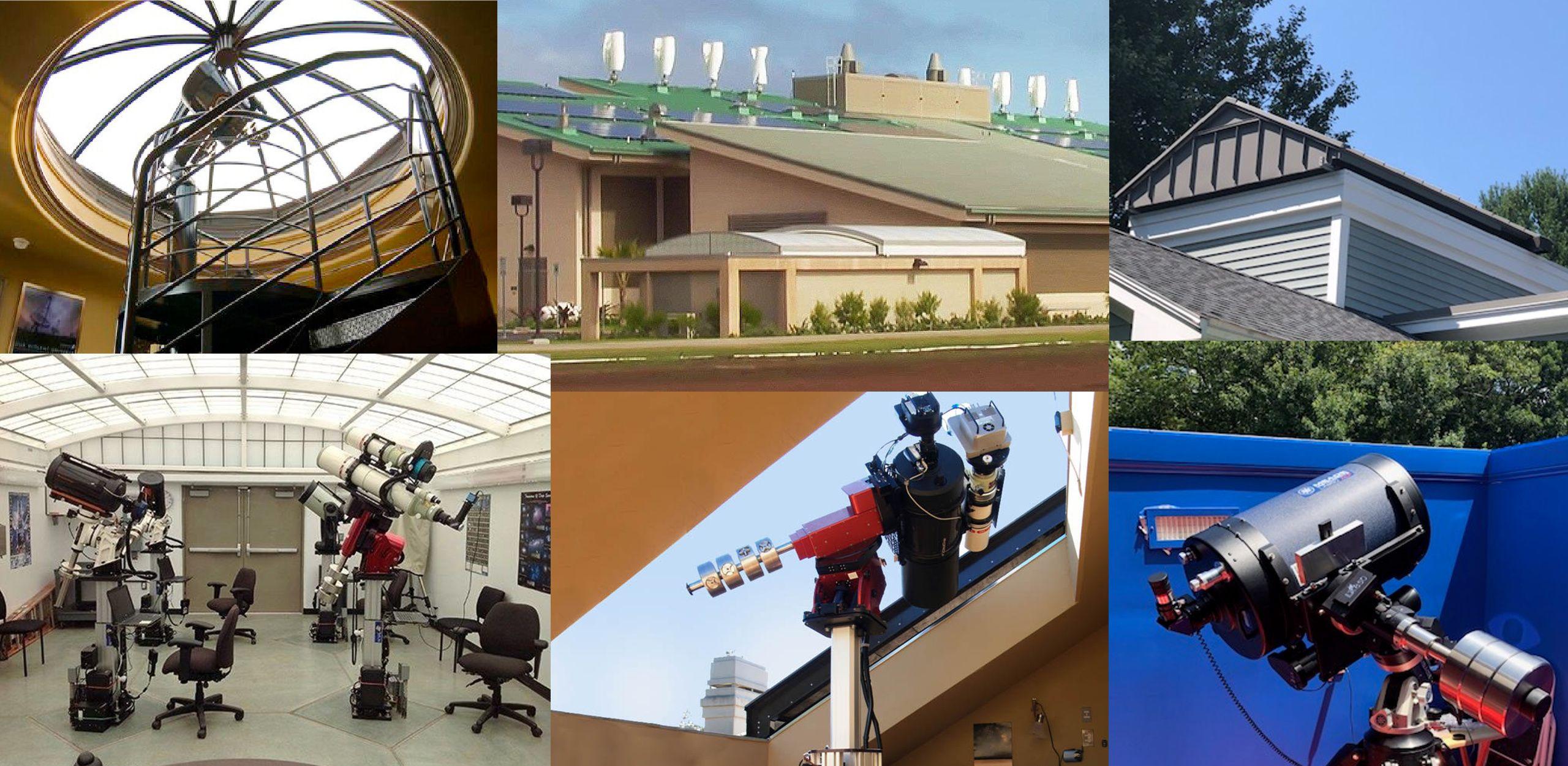 Retractable Observatory Roof
Choices for a Retractable Observatory Roof
A domed observatory roof is a distinctive sight, bringing to mind research labs and scientific discovery. However, for a home observatory, the goal may be to blend in with the rest of a residence or neighborhood. In those cases, a roll-off roof that is flat, peaked, or sloped to better match existing rooflines may be more desirable.
A Rollamatic operable roof can be designed in either style to provide an unobstructed view of the sky when open and critical protection for equipment when closed — all while achieving desired aesthetics.
​The Benefits of a Rollamatic Retractable Observatory Roof
Design Freedom
By opting for a roll-off roof design, observatory owners can not only match the roofline and shape to the existing structure, but also use the same materials, such as shingles, shake, or tile. Of course, glass is also a popular option. Just about any design and engineering approach is possible, so long as it can be tailored to achieve the viewing freedom desired.
Just as it sounds, a roll-off retractable roof moves out of the way either as a single piece or in a bi-parting way, depending upon the roof layout and design objectives. Typically, a roll-off design will be less expensive to implement than a domed approach.
A domed enclosure offers some potential advantages over a roll-off design, such as unobstructed view of objects closer to the horizon. Moreover, a rotating segmented design can help block light from the surrounding area by allowing just a portion of the dome to be opened.
While we're not experts in astronomy, we have helped numerous individuals and institutions decide on the best retractable observatory roof design to meet their budget and objectives. We'd be happy to discuss your project and share our ideas.
Reliability
We've designed and helped install thousands of retractable roof systems across the United States and beyond over the past 60+ years. That experience includes numerous roofs for institutional or residential observatories. Here is what one customer had to say after severe winter storms rolled through Texas in 2021.
"The Insperity Observatory in Humble ISD is a roll-off roof observatory. This roof was built by Rollamatic Roofs and has served us very well for many years. The recent freeze and past hurricanes have had no impact on the operation of the roof, and no water has leaked into the observatory. It is well worth the cost and effort to install a quality roll-off roof."

-Dr. Aaron Clevenson, Observatory Director, Insperity Observatory
The Facts are Clear
Installing a retractable observatory roof can help you achieve a longtime dream of your own observatory, or offer your organization a cost-effective option for adding an observatory to your facility.
With the right maintenance, a retractable observatory roof can last for decades. Do you want to add an observatory roof to your home or facility? If so, reach out to us today! We'll be happy to answer any questions and help you determine the best approach.
Accommodate When Space is Limited for Retracting
Configure to Retract in Short or Long Direction
Open in Sections or Glide as a Single Unit
Custom Design and Engineering
Retractable Observatory Roof Examples
A retractable observatory roof can be engineered for a variety of roof geometries.
60 Years. 1 Product.
You get pretty good when you do one thing day in, day out for 60 years.